How we created the Hayley + Laz Range - Part 1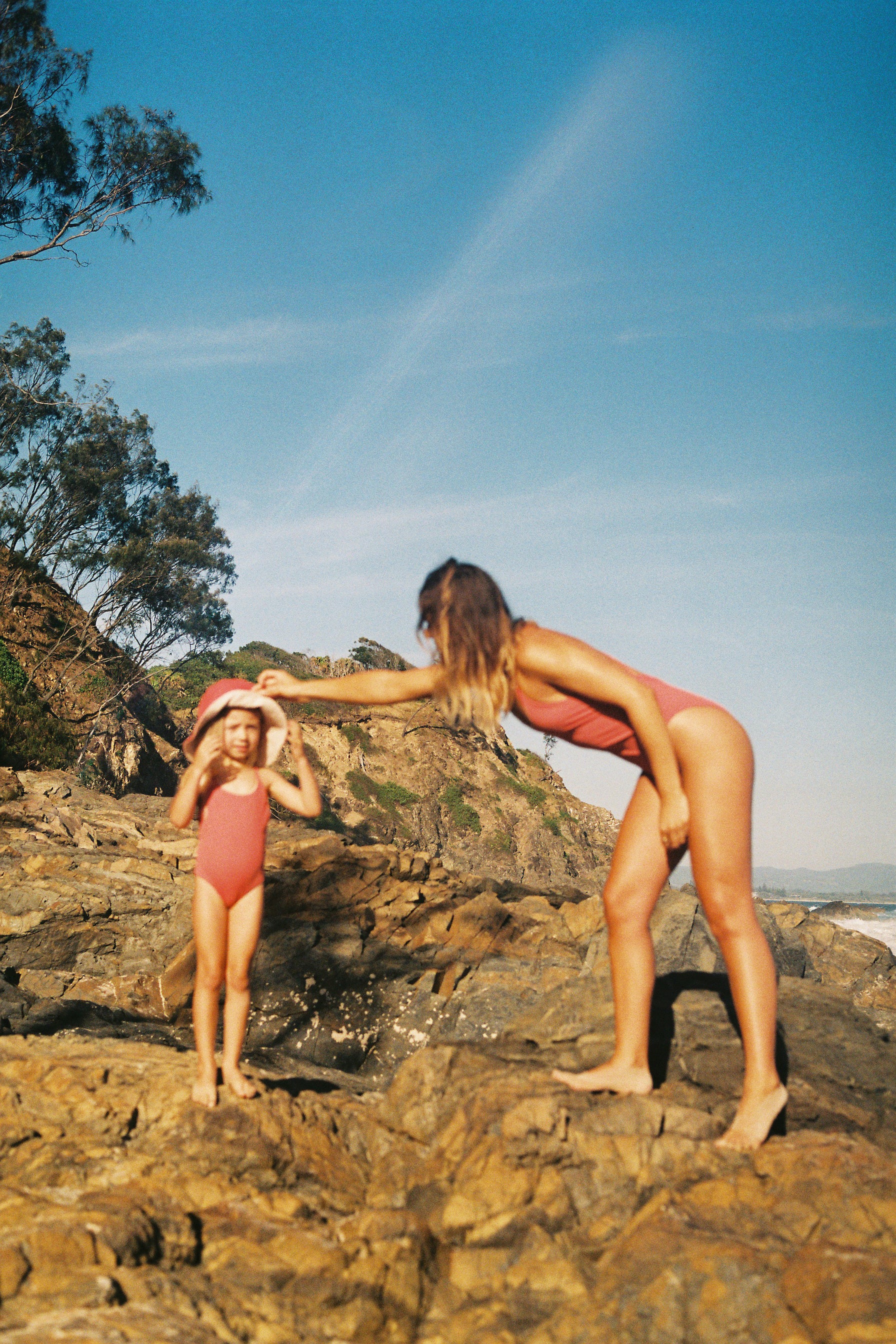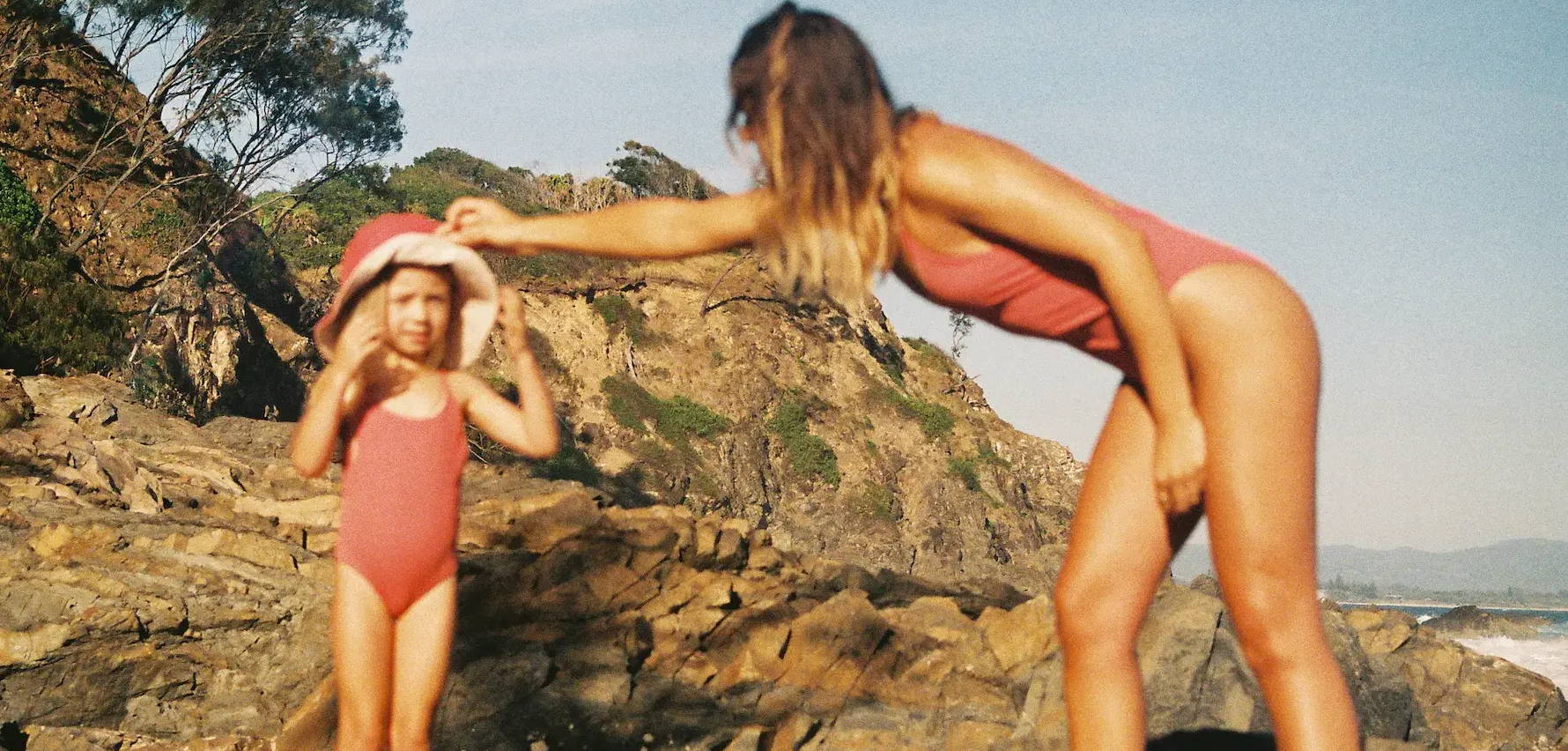 How we created the Hayley + Laz Range - Part 1
Author Jade Sewell-Robertson / Category Hayley + Laz x Two Sparrow / Published: 20-Jan-2021
Written by Jade Sewell-Robertson, director and founder of Two Sparrow Australia.
We are so excited to be collaborating with two beautiful humans, inside and out, Hayley Carey and her daughter, Layla.
Our collaboration began as an introduction through a mutual friend, and Hayley reached out as she owned pieces from our first sustainable swimwear range and loved the styles, fabrics and ethos of Two Sparrow.
Hayley's personality and values have always been something that stood out to me, and the thought of a partnership from day one was something we were sure and excited about.
We began our conversations early in 2020 and as with the rest of the world, experienced things we were not expecting and had many hurdles to overcome..
Hayley Carey in Two Sparrow Australia sustainable swimwear from our first collection.
What was the process of creating the range?
Hayleys swimwear style mood board version 1.
Due to COVID we could only ever meet online so we pivoted our conversations from Instagram DM to Zoom. We had so many incredible conversations with Hayley leading the way with her creative designs and thoughts on colours and fabrics.
At the forefront, was always ensuring the range was made from sustainable materials and ethically manufactured in Australia. Luckily, this is something we strongly value, with all manufacturing being solely done in ethical factories across Australia since early 2020.
We went through mood boards and rounds of ideas and designs, consolidating from many to just a few. We worked with our inhouse designers to get the shape and style of the swimwear just right.
Laz's drawings turned digital
Laz's drawings turned digital.
As we were developing ideas for the patterns, I remembered an amazing thought of Hayleys from one of our first meetings, to have Laz draw the patterns. As we moved forward with this idea it began to blossom.
We were able to transform Layla's drawings from her drawing into actual graphics, from here we worked with the amazingly talented Libby Goggin from The Lib Creative who turned the graphics into beautiful patterns as seen below. Libby created the patterns in varying colours and styles to choose the best that suited the range perfectly.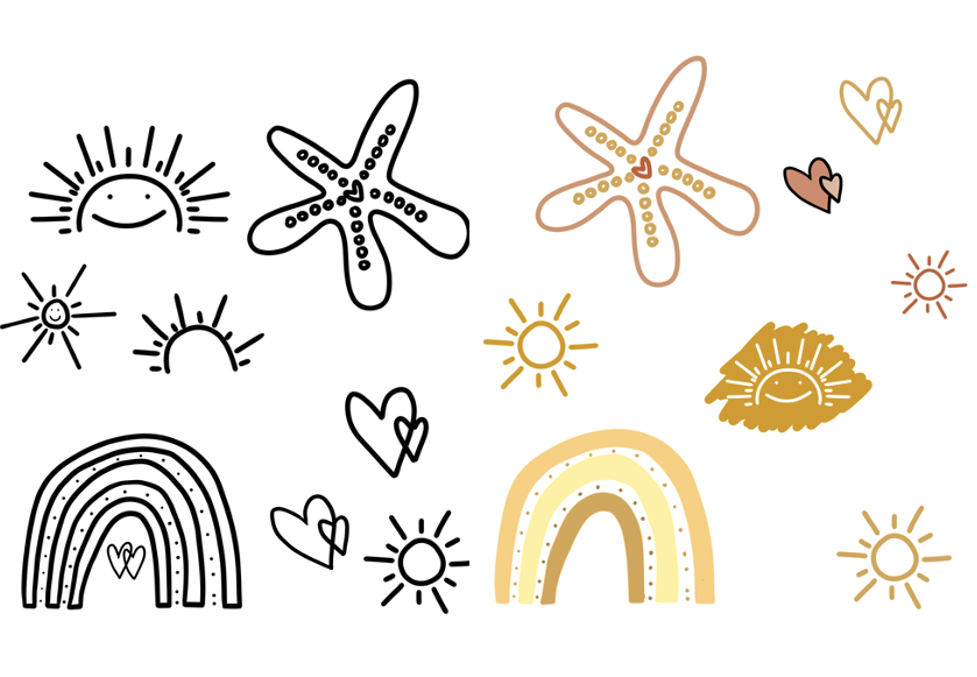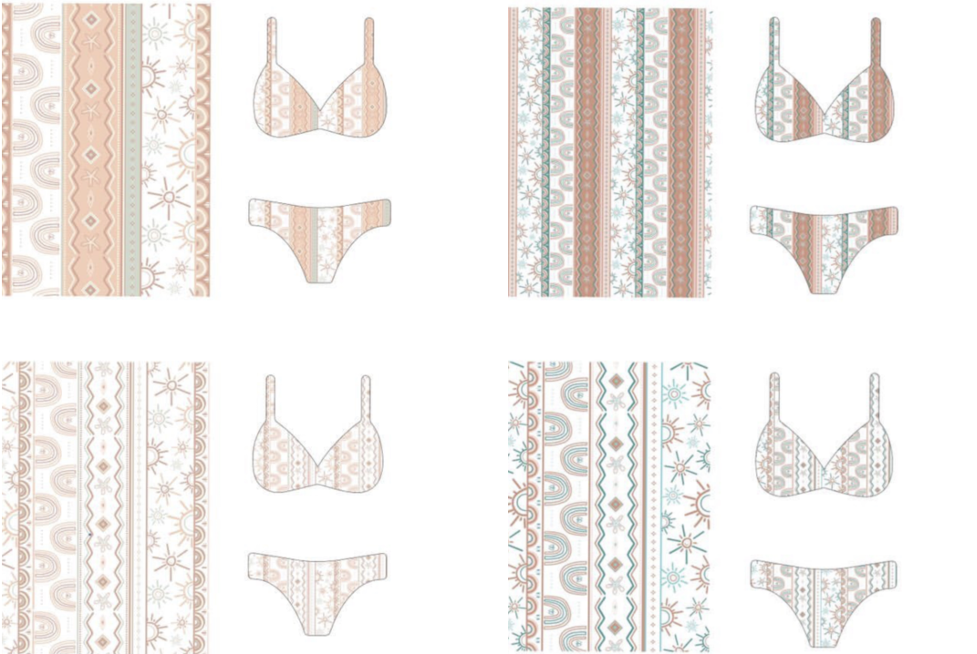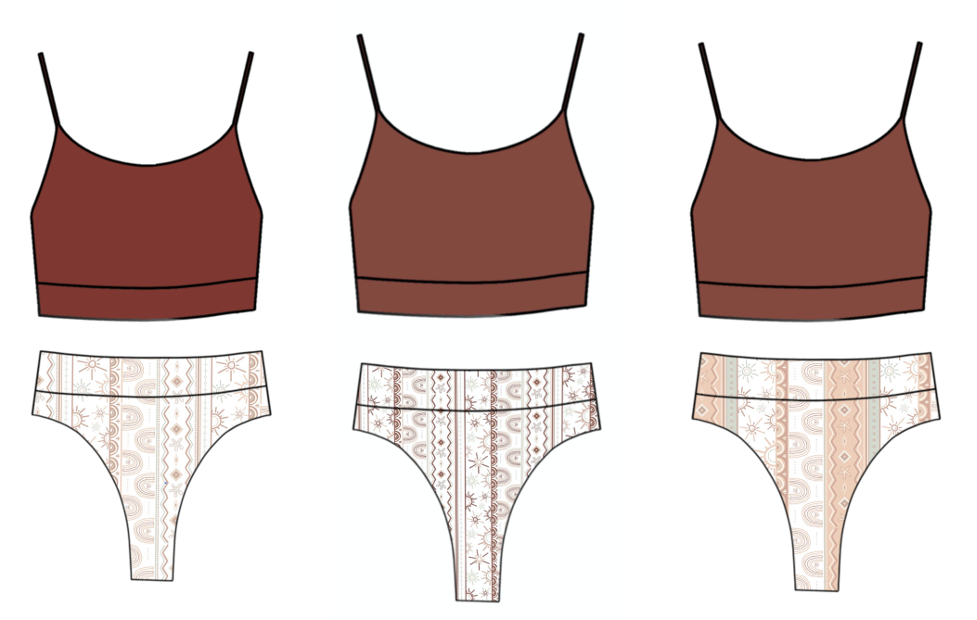 The patterns created by Lib for the Hayley x Laz sustainable swimwear range.
We were able to decide on the fabric pretty easily, going with REPREVE- which is created from recycled PET bottles. Since 2007, REPREVE has transformed more than 20 billion recycled plastic bottles into recycled fibers! The fabric we have used for our Hayley x Laz collection is luxe, thick and so soft.
Hayley worked with her audience to help decide on the final patterns. We had them printed onto sample fabric and made the final decision from there
As well as a pattern for the collection, we worked through a plethora of colours to find the right ribbed colour to go with the Laz pattern chosen. Hayley worked with her audience to decide on 'Coral' ribbed. Also made from the same fabric. We went with a rib as the texture suited the collection and gave the base colour more depth.
The final 2 patterns printed using REPREVE, sustainably made swimwear fabric.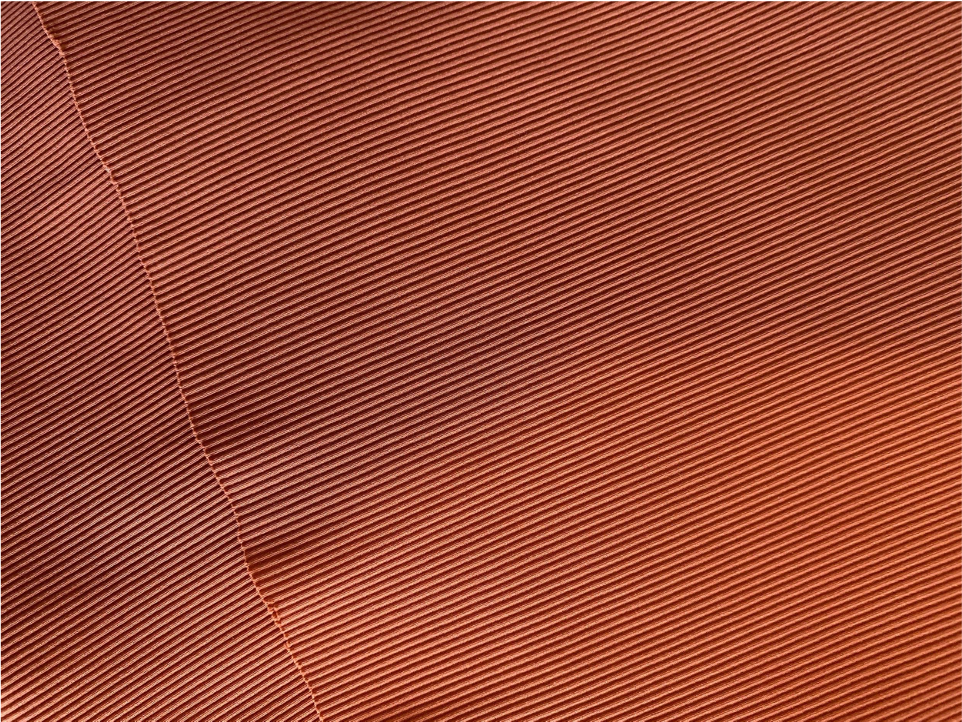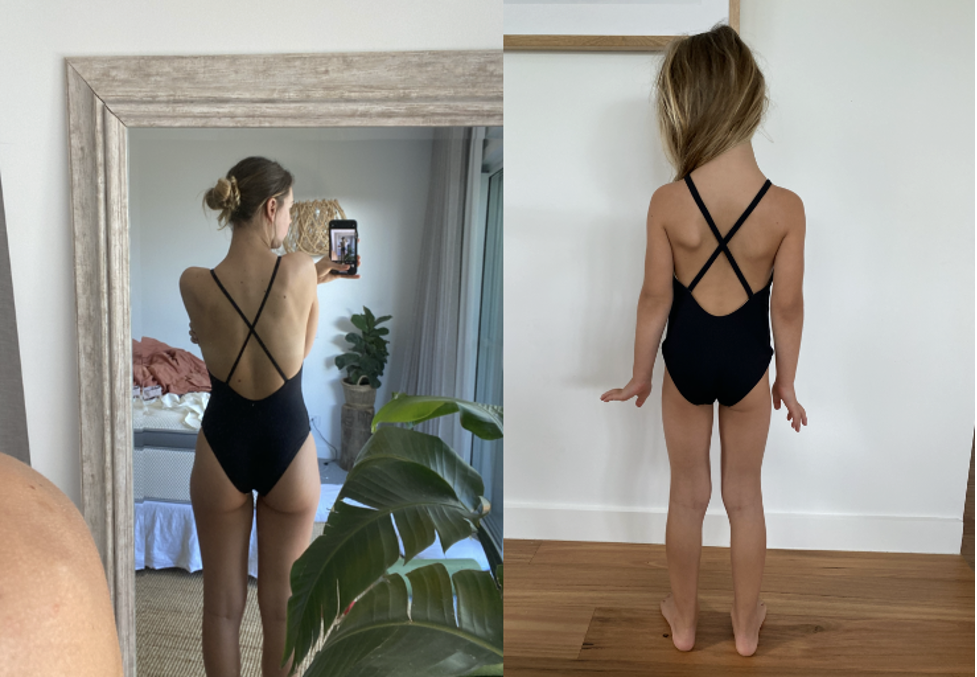 COVID style sampling - at home collection sampling & alterations with Hayley Carey & Laz.
Once we decided on the fabrics, it was sample time. If you are in the industry, it is known that you never quite get it right the first time. Our first lot of samples were almost perfect, but not just quite. With some minor alterations we created the perfect bikinis and swimsuits for women and mini.
In the midst of sampling, our factory in Melbourne had to close due to COVID and we had to hunt for a brand new factory. This slowed down our production process, but we were still adamant to not go offshore and keep production within Australia.
Why is Australian made important to us? Check out the reasons here.
Our new factory in Sydney has been incredible to work with, we were lucky we were able to schedule in our production and have the range created in general. At the time of writing, the swimwear is almost completed in full production.
We also overcame another challenge as our new factory was not able to cut the fabric, just sew. We also worked a bit differently working with a new cutter along with different rules and processes of production.
Every learning curve has been a worthwhile one, that has made the experience and knowledge of production all the more greater.
We have released a new swimsuit each week to the public, giving you a sneak peek of what will be launched. Check out our weekly launch videos on our Instagram page.
We have shared with you our process of working together co-creating the swimwear range for Hayley Carey + Laz x Two Sparrow Australia but we are not done yet.
In our next blog we will release each of the swimsuits that are going to be launched to subscribers first and details about them so you can find your perfect size.
We will also tell you more about the linen beach apparel and accessories collection.
Hayley + Laz in Byron Bay in the Layla one piece in Coral Rib
We are officially launching pre-sale exclusive to our email subscribers on Tuesday 26th of January at 10 AM, with orders being dispatched early Feb.
If you aren't on the waitlist yet,

sign up here.